Archive for December, 2012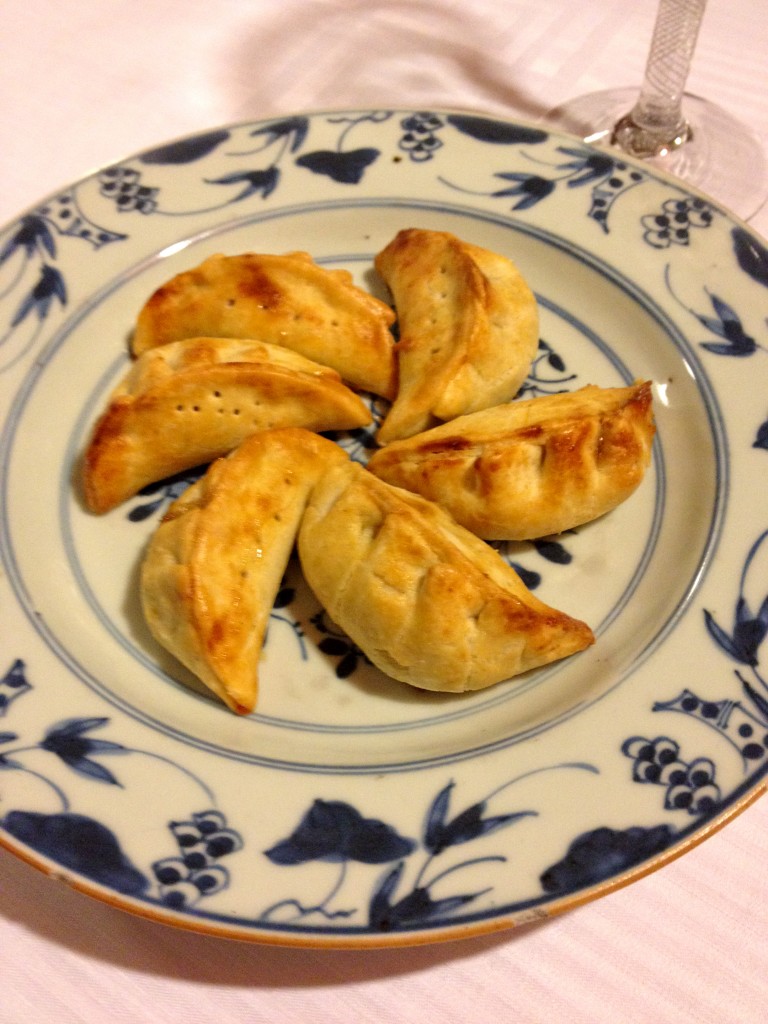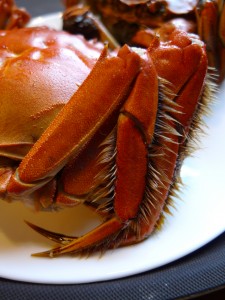 My piece on eating hairy crabs will be broadcast on From Our Own Correspondent on BBC Radio 4 this morning – you can listen to the broadcast live at 1130 GMT here, listen afterwards here, or read it here! Hairy crab (mao xie 毛蟹) is one of the Chinese names for this delicious freshwater creature, but they are generally known as 'big sluice crabs' (da zha xie) because they were traditionally caught around the floodgates in the Lower Yangtze Region, especially around the Yangcheng Lake near Suzhou. As you will read in my piece, they are known as 'hairy crabs' because of the spiky yellow hairs that grow along their legs – but Westerners have a tendency to call them 'mitten crabs', possibly because that sounds less unattractive in English, but also because they have 'mittens' of moss cushioning the base of their claws.
Although the crab season is now drawing to a close, they are ubiquitous during the autumn months if you happen to be in Shanghai or its surrounding region. They are advertised on great billboards looming over city streets, sold, graded by size and sex, at specialist shops, and listed on the menus of many local restaurants. You can even buy boxes of live crabs at Shanghai's airports, their feet and claws tightly bound with rice straw, and take them home with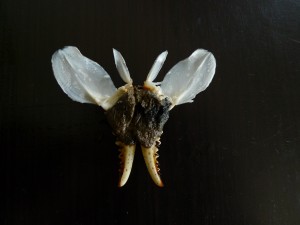 you.(They also have a history of illicit immigration, hitching rides on container ships to places like England, where they are regarded as an invasive species.)
In my BBC piece I mention the butterfly and the monk – pictures below.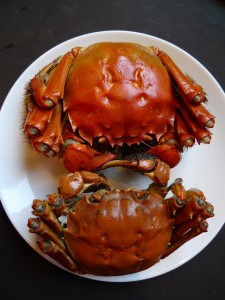 My piece on eating in Taiwan is published in today's Observer – for me at least, it brings back some delicious memories. I first visited Taiwan in 1993, when I took an intensive Chinese course at the Mandarin Training Center, before travelling around China and Tibet for six weeks – and making my first, fateful visit to Chengdu. At that time I barely spoke Chinese and knew almost nothing about Chinese food, but a few food memories stand out from that sultry, tropical Taiwan summer. The glorious mangoes that were then in season: I remember eating them constantly, dressed in light summer clothes, with juice running everywhere (and I remember objects around the place I was staying, including telephone receivers) being helplessly sticky with mango juice. A revolting cloud of stinking tofu vapour that I passed through every day on my way to school: I thought the smell came from a rubbish dump or rotting drain, and only later
discovered its true origin. The wonderful self-service buffet restaurants near the college, many of them vegetarian, where one could pile a plate with samples of a vast range of interesting dishes, for a modest price. Sitting on tatami mats for Japanese lunches.
Later, in about 2004, I went back to Taipei to research an article for Gourmet magazine (unfortunately it's not available online, but I think it's one of the best things I've ever written). It was a fascinating and wonderful trip, and I've been longing to go back ever since, so it was great to be able to visit again this year.
Apart from the food, of course, you can't miss the National Palace Museum, with its imperial Chinese treasures, including the famous 'meat-shaped stone' 肉形石. The hot springs are rather restorative, too, and it's fun drinking tea in the hills of Maokong. Next time I hope I'll be able to explore some of the stunning scenery in the centre and east of the island.