The pleasures (and perils) of eating hairy crabs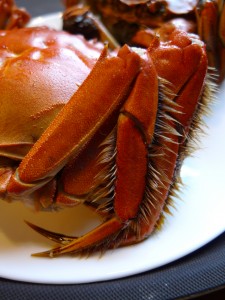 My piece on eating hairy crabs will be broadcast on From Our Own Correspondent on BBC Radio 4 this morning – you can listen to the broadcast live at 1130 GMT here, listen afterwards here, or read it here! Hairy crab (mao xie 毛蟹) is one of the Chinese names for this delicious freshwater creature, but they are generally known as 'big sluice crabs' (da zha xie) because they were traditionally caught around the floodgates in the Lower Yangtze Region, especially around the Yangcheng Lake near Suzhou. As you will read in my piece, they are known as 'hairy crabs' because of the spiky yellow hairs that grow along their legs – but Westerners have a tendency to call them 'mitten crabs', possibly because that sounds less unattractive in English, but also because they have 'mittens' of moss cushioning the base of their claws.
Although the crab season is now drawing to a close, they are ubiquitous during the autumn months if you happen to be in Shanghai or its surrounding region. They are advertised on great billboards looming over city streets, sold, graded by size and sex, at specialist shops, and listed on the menus of many local restaurants. You can even buy boxes of live crabs at Shanghai's airports, their feet and claws tightly bound with rice straw, and take them home with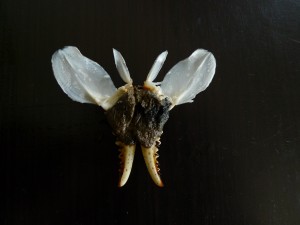 you.(They also have a history of illicit immigration, hitching rides on container ships to places like England, where they are regarded as an invasive species.)
In my BBC piece I mention the butterfly and the monk – pictures below.