I'm a cook and food-writer specialising in Chinese cuisine. In the 1990s, I went to live in the Sichuanese capital, Chengdu, and ended up taking a professional chef's training course at the Sichuan Higher Institute of Cuisine (四川高等烹饪学校). Since then, for the last three decades, I have continued my explorations both of Sichuanese food a and of Chinese cuisine more broadly.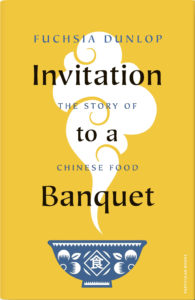 I'm the author of seven critically-acclaimed books about Chinese food: Invitation to a Banquet: The Story of Chinese Food (2023), The Food of Sichuan (2019), Land of Fish and Rice: Recipes from the Culinary Heart of China (2016), Every Grain of Rice: Simple Chinese Home Cooking (2012), Shark's Fin and Sichuan Pepper: A Sweet-Sour Memoir of Eating in China (2008), Revolutionary Chinese Cookbook: Recipes from Hunan Province (2006) and Sichuan Cookery (2001, published in the US in 2002 as Land of Plenty: A Treasury of Authentic Sichuan Cooking). Four of my books have been translated into Chinese, including Shark's Fin and Sichuan Pepper (鱼翅与花椒) and a collection of essays, 寻味东西, both of which are published by the Shanghai Translation Publishing House 上海译文出版社.
My writing has appeared in numerous publications, including FT Weekend, Saveur, The New Yorker, Observer Food Monthly, Lucky Peach, The Guardian, The Economist, Conde Nast Traveller, Departures and Gourmet. I also appear as an expert guest on radio and television: past credits include Ugly Delicious (Netflix, 3 episodes, 2018), Anthony Bourdain: Parts Unknown (CNN, 2016), Destination China with Adam Liaw (SBS, 2019), Once Upon a Bite 风味人间 (Tencent Video, 2018),  Mind of a Chef with Danny Bowien (2017), Confucius was a Foodie (National Geographic, 2016), World Cafe Asia with Bobby Chinn (Discovery Channel, 2007), Gordon Ramsay's The F-Word (2008), as well as appearances on CNN's On China, NPR's All Things Considered, KCRW's Good Food, and The Food Programme on BBC Radio 4.
I've won various awards for my writing, including four James Beard Awards in the United States, Fortnum and Mason Cookbook of the Year (2020), Guild of Food Writers Food Writer of the Year (2022), The Kate Whiteman Award (2009, 2013) The Andre Simon Award (2017), the IACP Jane Grigson Award (2009). I was also shortlisted for the Art of Eating Prize in 2017.
(Photo © Lai Wu )
Consultancy work includes Grand Majestic Sichuan restaurant in Hong Kong (2021- ) and Barshu in London (2006-2016), as well as ad hoc consultancy and events for Marks and Spencer, Two Sisters Food Group, Premier Foods, Sainsbury's, Story PR, Bakkavor and Williams Sonoma.
I've appeared as a cook and author at events all over the world, including: Melbourne Food and Wine, LA Food Bowl, Low Food Symposium (Amsterdam), Asia Society Switzerland (Zurich), British Library Food Season (London), FT Weekend Festival (London), Dumplings and Dynasties (New York), Edinburgh Book Festival, Sydney International Food Festival, Adelaide Book Week, Hong Kong Literary Festival, Culinary Institute of America Worlds of Flavour (Napa Valley), Singapore International Conference on Chinese Cuisine and Wine, Bookworm Festival (Beijing, Chengdu, Suzhou), Shanghai Literary Festival, Abergavenny Food Festival, Manchester International Festival, Transart (Bolzano, Italy), Cuinasia (Barcelona), Ubud Writers and Readers Festival (Bali), Fairway Galle Literary Festival (Sri Lanka), Kerrygold Ballymaloe Literary Festival (Ireland)
I grew up in Oxford, and studied at Magdalene College, Cambridge University, Sichuan University, and the School of Oriental and African Studies in London. S
A FEW COMMENTS
'[Fuchsia Dunlop] has done more to explain real Chinese cooking to non-Chinese cooks than anyone.' ― New York Times
'One of the world's experts in Chinese cooking.'― Boston Globe
'Fuchsia understands Chinese cuisine better than any other foreigner I know.' ― Chen Xiaoqing, director of the hit TV shows Flavorful Origins, A Bite of China , and Once Upon a Bite
'When Fuchsia Dunlop writes about Chinese food, you pay attention.' ― Eater
'A world authority on Chinese cooking…Her approach is a happy mixture of scholarly and gluttonous.' ― Observer Food Monthly