Fuchsia Dunlop is a cook and food-writer specialising in Chinese cuisine. She is the author of the award-winning Land of Fish and Rice: Recipes from the Culinary Heart of China (a collection of recipes from the Jiangnan or Lower Yangtze Region in eastern China), Every Grain of Rice: Simple Chinese Home Cooking; Shark's Fin and Sichuan Pepper: A Sweet-Sour Memoir of Eating in China, an account of her adventures in exploring Chinese food culture; and two other critically-acclaimed Chinese cookery books, Revolutionary Chinese Cookbook, and Sichuan Cookery (published in the US as Land of Plenty).
Fuchsia's work has appeared in publications including The Financial Times, Lucky Peach, Saveur, The New Yorker, Observer Food Monthly and Gourmet. She is a regular guest on radio and television, and has appeared on shows including Anthony Bourdain's Parts Unknown (2016), CNN's On China, Gordon Ramsay's The F-Word, NPR's All Things Considered and The Food Programme on BBC Radio 4. In the United States, she has won four James Beard awards, including International Cookbook (2014) for Every Grain of Rice and three for articles published in Lucky Peach and The Financial Times. She has been nominated/shortlisted for four additional James Beard Awards. She was named 'Food Journalist of the Year' by the British Guild of Food Writers (GFW) in 2006, and has also won GFW awards for three of her books. Her memoir, Shark's Fin and Sichuan Pepper won the IACP Jane Grigson Award in the US, and the GFW Kate Whiteman Award for Food and Travel in the UK. Most recently, Land of Fish and Rice won the 2017 Andre Simon Food Book of the Year award.
She is a consultant to the popular Barshu Sichuanese restaurant in London, as well as its sister restaurants Bashan and Baozi Inn, and has also consulted and taught Chinese cookery for companies including Williams Sonoma, Sharwoods and Marks and Spencer. Fuchsia has spoken and cooked at conferences and events in China, Barcelona, California, New York, Sydney and Singapore, and as part of the Transart festival in Bolzano, Italy.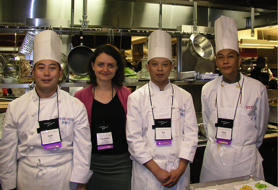 Fuchsia grew up in Oxford, and studied at Magdalene College, Cambridge University, Sichuan University, and later at the School of Oriental and African Studies in London. She first became interested in China through a sub-editing job at the BBC, which led her to take evening classes in Mandarin, and eventually to win a British Council scholarship to study for a year in the Sichuanese capital, Chengdu. She speaks, reads and writes Chinese.
'The best writer in the West… on Chinese food' Sunday Telegraph
'Fuchsia has a rare ability to convey an encyclopaedic knowledge of Chinese cuisine in a compelling and totally delicious way.' Heston Blumenthal
'Fuchsia Dunlop joins the ranks of literary food writers such as Elizabeth David and Claudia Roden.'Independent
'A world authority on Chinese cooking… Her approach is a happy mixture of scholarly and gluttonous.'Observer Food Monthly