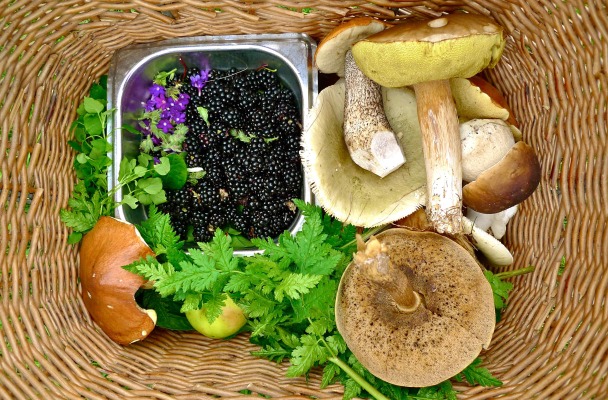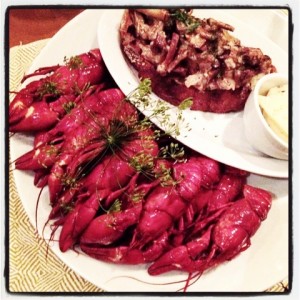 We pulled the crayfish apart, sucking the juices from their heads and chomping through the claws, devoured their sweet flesh, deeply infused with the flowery scent of dill. Our hands ran with salty juices; occasional spurts hit our hair and clothes. We had at least a dozen crayfish each, maybe more, all of them red as fire engines, the females plump with golden roe. They were served with another seasonal treat, chanterelles, slick with cream and speckled with parsley, on sourdough toast, and a Swedish cheese flavoured with cloves and caraway. My dining companion was supposed to be interviewing me for a Swedish newspaper, but by the time the crayfish arrived, civilised conversation was impossible. I was glad I hadn't had time to change my clothes before dinner.
The crayfish (at Taverner Brillo) were probably the most traditional Swedish dish I had during my trip in early September, my first visit to the country. I was there to give a lecture and cooking demonstration at Restaurangakadamien, and the organiser, food-writer Lisa Forare Windbladh, had drawn up my extra-curricular itinerary for Stockholm. In Malmo, I was lucky enough to be under the stewardship of the founders and editors of Fool magazine, Per-Anders and Lotta Jorgensen. So apart from the hotel breakfasts of cinnamon buns, gravlax, liver pate and – my new addiction – soft-boiled eggs with salty 'caviar', I was mostly tasting my way through what has come to be called New Nordic Cuisine.
On my second day, Lisa took me shopping for Chinese ingredients for my class, with a detour to the Hotorgshallen covered market, where we sampled sea buckthorn and cloudberry jams, liquorice and charcuterie. At Hav, fishmonger Per-Anders Bergqvist plied us with herrings of many colours, jewel-like vendace roe, cheese and schnapps. At 19Glas, a wine bar devoted to natural wines, we had the set lunch menu: the highlight a superb 'herb galette', spinach-green, filled with roasted parsnip and mushrooms and served with smoked crème fraiche and toasted pine nuts.
After a crazy day of talking, teaching and cooking a Sichuanese supper for 40 people at Restaurangakadamien, I was back on the Swedish food trail. A friend of Lisa's took me for lunch at a new, tiny, bistro called Gro where I had one of the most quietly memorable meals of the trip. Gro is run by two young chefs who toil away, softly and intensely, in an open kitchen. There are just a handful of seats (no reservations), and the menu consists of three dishes and a dessert chalked up on a blackboard. The golden sunrise of a salad – shaved fennel and carrot on a bed of carrot puree, with toasty sunflower seeds – was beautiful enough, but the lamb took my breath away. Simple, but perfectly harmonious, the lamb shoulder had been slow-cooked in beer, and was then spooned over softened chunks of carrot and celeriac and dressed in ravishing, creamy sauce spiked with vinegar, with a slug of yellow rapeseed oil, chopped chives and sprigs of fennel. It was the kind of lunch that leaves you on a cloud.
One evening, Lisa took me to Esperanto, run by Sayan Isaksson, a Swede of Korean extraction. Less well known that some other avant-garde restaurants, it won the accolade of 2013 'Restaurant of the Year' from the White Guide, the Swedish Who's Who of restaurants. It's not often you can say that the bread was a highlight of a tasting menu, but here it was: crispbreads darkened by soy and pig's blood, with the crisp-crumbly texture of fried wonton skins; divine steamed buns stuffed with kale; muscular little loaves of white sourdough; golden spheres of fluffy, cake-like bread coloured green by ramsons. The other dishes were equally amazing. A green plate of buttermilk cheese camouflaged by powdered chives, with onion flowers and deep-fried lichen was served with 'potato crisps' for dipping. Fragile spheres of frizzy deep-fried swede yielded to reveal a briny oyster cream. We used mother-of-pearl spoons to scoop out the golden, waxy yolks of quail eggs aged in miso and covered in a froth of jerusalem artichoke. It was the kind of elfin, esoteric, complex fusion food that is so difficult to get right, but this was perfect. Astonishingly good, actually.
In Malmo, I met chef Andreas Dahlberg over an aperitif at his restaurant, Bastard ('It's a terrible name,' he said, 'but you get used to it, like "The Cardigans" for a band'.) Like almost everyone on the Swedish food scene, he was a human canvas, with elaborate tattoos covering his arms. After a while he had to leave, but I stayed on for supper. The food here is mainly local, and produce-driven. There was a duck eggyolk that spilled like golden lava over a bed of wild mushrooms, surrounded by a fairy ring of mustard seeds; crabmeat spiked with chilli and served with kale. The highlight of the feast was a piece of tender cod with mussels, hot cucumber and nasturtium blossoms in a pale golden sauce with a delicious edge of acidity.
Another day, Emma, the chef-patron (with her husband David) of the Talldungen restaurant and guesthouse, took us foraging around the pinewoods near her home. We filled a basket with ceps, portobellos and other mushrooms, blackberries and wild greens: it was one of the richest mushroom seasons anyone can remember, and they were springing up everywhere, edible and inedible (we left the gorgeous, sinister fly agarics, as you can imagine). Afterwards, Emma and David fed us with home-grown tomatoes followed by porchetta, the mushrooms we'd picked, sauteed in butter, and a salad of foraged greens.
As regular readers of my writing will know, I'm fascinated by stinky foods, so I was thrilled to have the chance to eat the infamous surstromming (fermented herring) in Sweden, in the right season. I had tasted it once before, at the Oxford Food Symposium, when someone brought a tin, and as soon as she pierced it everyone stood back at the stinkbomb vapour. This time, I was able to eat it properly, with all the trimmings, on the shore of the Skeppsholmen Island in the centre of Stockholm, thanks to Chef Malin Sodersterom. Malin mentioned that she was having a surstromming dinner that night, and she must have noticed that my eyes lit up, because she offered me a preview. So she came out of her kitchen with a tray holding a tin of stinky fish, sliced potatoes, butter, chopped onion and crispbread, and instructed me on how to make an open surstromming sandwich. First, there was a sharp exhalation of putrid gases when she opened the tin to reveal the silvery, puce-coloured fish. The herrings had the salty, umami taste of anchovies, accompanied by those foxy, armpit odours – it certainly had echoes of Shaoxing rotted amaranth stalks. The bright piquancy of the onion set it off nicely.
Just a few highlights of a fantastic trip…
With thanks to Majo, Visit Sweden, FOOL magazine and all the local food people who gave me such a warm welcome.
For readers of Swedish (or users of Google Translate!), here are a few accounts of my Sichuan food workshop in Stockholm:
Magnus Reuterdahl's blog post 
A piece by chef Anders Johannsen
Anna Lind Lewin (aka Mrs Food) blog post