My latest WildChina food tour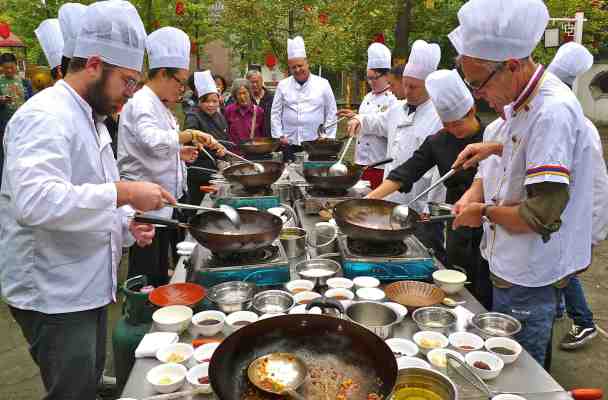 In October, I took another group of adventurers on a gastronomic tour of China, from Beijing, through Xi'an, Chengdu and Hangzhou, to Shanghai. It's always a delight, for me, to see everyone expanding their food horizons in ways they perhaps hadn't anticipated. In particular, I'm happy when guests really begin to appreciate the importance of texture in Chinese cuisines – and, in many cases, to positively enjoy eating delicacies such as sea cucumber and goose intestines, which are largely incomprehensible in terms of European/American gastronomy. If any of this year's guests are reading this post, thanks again for your openness and enthusiasm!
During the tour, we ate at many different kinds of restaurant, from tiny holes-in-the-wall to the splendour of the Dragon Well Manor in Hangzhou, visited food markets and took a Sichuanese cooking class. Oh, and there was a bit of sightseeing too – the Forbidden City, Terracotta Warriors and that kind of thing…
After the main tour, I spent a week in Yunnan on a reconnaissance mission for next year's inaugural Yunnan food tour. Both 2015 tours are already sold out, but I believe WildChina will be opening bookings for 2016 in the next month or two.