The 'preserved mustard index' æ¦¨èœæŒ‡æ ‡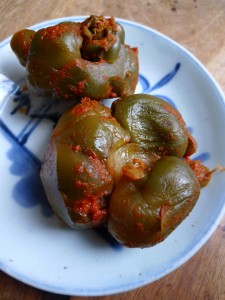 Who would have guessed that a famous Chongqing pickle, the preserved mustard tuber made in the town of Fuling, would be used by the Chinese government to measure labour migration?! According to this article from the Economic Observer (which I found via the South China Morning Post), zhacai 榨菜  is a 'low quality consumable' 低质易耗品 that people eat regardless their income. Under normal circumstances, the article says, consumption of zhacai, and instant noodles, is pretty much constant among the urban population – so if statisticians notice a sudden rise in zhacai sales  in a particular city, this implies that a lot more people are now living there.
For example, the Chinese National Reform and Development Commission found that the market share of Fuling zhacai sold in southern China slumped dramatically from 2007-2011, showing that some of the great tide of migrant workers who flocked there in the early days of reform had started to leave. Meanwhile, zhacai sales in Northern, Central and Northwestern China shot up, implying that these workers were returning home to the inland provinces. Obviously this 'mustard index' has huge implications for provincial governments trying to work out their expenditure on healthcare, education and so on. Fascinating!
So what is zhacai, and why is it such an essential, everyday food? Zhacai, or 'pressed vegetable', is made from the knobbly, swollen stem of a type of mustard green. The stems are shorn of any tough skin and air-dried until they soften. They are then salted for a few days, rinsed, pressed and finally packed into jars with ground chilli and other spices and left to mature for several months. Zhacai is made in many places and to many different recipes, but the most famous comes from Fuling, the town near the Yangtze River that was put on the international map as the setting for Peter Hessler's superb River Town.
No one could pretend that zhacai is the prettiest vegetable, but it's extremely delicious: crisp and tender at the same time, sour, spicy and umami. You will often find it sold in tins in Chinese shops, usually labelled as 'Sichuan preserved vegetable'. It may be available in knobbly chunks (like the picture top right), or ready-shredded. The small sachets pictured on the left are handy for long train journeys and quick meals. Zhacai has many culinary uses. It may be simply eaten as a relish with rice, breakfast rice gruel or a steamed bun. Otherwise, it can be sliced or slivered and stir-fried with pork (scrumptious), used to give an elegant salt-sourness to a light broth, or chopped up and scattered over silken tofu.
The silken tofu is a famous Chengdu street snack – you'll find a version of the recipe in my Every Grain of Rice. Sichuan Cookery/Land of Plenty includes some other zhacai recipes.