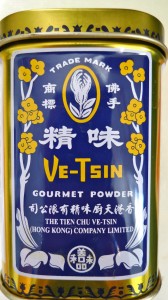 This article 'Breaking Bland', by John Mahoney, is the most lucid, informative and interesting I've read on the whole MSG controversy. It goes into great detail about what exactly MSG is, how it is made, and how the human body interacts with glutamates.
It's quite magnificently ironic that just as chefs at the cutting edge of Western gastronomy are becoming fascinated by MSG and umami, the Chinese are waking up to the stigma that has been attached to it for forty years and losing their taste for it, if this article in the Economic Observer, 'China loses its taste for MSG', is to be believed!
Even if Chinese people do request their food 'without MSG', it's amazing how many chefs will continue to use so-called 'chicken essence' (ji jing 鸡精) anyway – and the cheap commercial 'chicken essence', which gives so many Chinese soups that intense umami taste and lurid yellow colour, has as its major ingredient MSG!