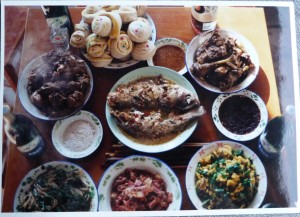 Last year I gave you a few photographs of Chinese New Year in Hunan, 2004. This year, here are a couple of photographs of Chinese New Year meals in the far north of the country, in a remote part of Gansu Province in 1995. They were taken in the village that is the subject of the chapter 'Hungry Ghosts' in my book Shark's Fin and Sichuan Pepper. (Please forgive the poor quality of the images! I may try to scan them properly another time!)
On the right, you can see a pair of fish (fish are an almost obligatory part of New Year's Eve dinners because nian nian you yu is a phrase that can mean both 'fish every year' and 'plenty every year': so the dish is an auspicious play on words.) You can also see home-reared chicken, and chunks of meat from the pig the household had fattened up in the last months of the lunar year, as well as steamed buns (hua juan) dotted with food colourings to make them look more festive. In the cold, arid north, particularly
in rural areas like this, wheaten foods such as hua juan, man tou 馒头 (plain steamed buns), deep-fried dough-twists (麻花 ma hua), noodles and dumplings are normally eaten rather than rice.
On the left, you can see several of the ingenious ways in which local people transformed one kind of food (pork) into many different tastes and textures. In the centre there are chunks of meat, on the bone; on the top left a stir-fry of lean meat and green onions or chives; centre bottom a kind of meatball wrapped in eggskin, steamed and then sliced; bottom right some 'pearly meatballs' made from minced pork studded with whole rice grains; and on centre right slices of a jelly made from the skin, which I was given in every single household, and which was usually made in a few different colours, using food colourings. And on the top left, you can see a few steamed buns, which were eaten with the main dishes.
Anyway, I must stop writing and start cooking, because I have some people coming over for a New Year's dinner and it's getting late! On the menu: spinach with either a gingery or sour-hot dressing (haven't decided yet), spicy cucumber salad, a stew of red-braised wild venison with beancurd sticks, Gong Bao chicken, stir-fried pork and yellow chives, steamed wild sea bass with ginger and spring onion, Chinese broccoli with ginger, fish-fragrant aubergines (I find it hard to do a dinner party without them, and they are often the most popular dish), and a couple of other dishes TBC. Oh, and some of the winter meats mentioned in my previous post, steamed, sliced and served with ground chillies and Sichuan pepper in homage to my beloved Chengdu. The stew is simmering away as I finish this post, wafting out lovely aromas of fermented chillies and beans, ginger, spring onion, venison and star anise.
Happy New Year!