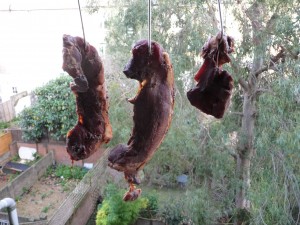 In the last month of the lunar year, the Sichuanese often cure their own meats: spicy wind-dried sausages, smoked bacon and marinated, wind-dried pork (酱肉)。I was hoping to make some sausages this year, but didn't have time, so I made instead some jiang rou 酱肉。 It is pork leg that is salted for a few days, wind-dried, marinated in sweet fermented sauce (甜面酱),rice wine, sugar and spices, and then wind-dried once again. You can see some in the photograph on the left, hanging outside my kitchen window. The weather is perfect now: cold but not freezing, rather like in Sichuan. Tomorrow night I will rinse some of the meat, steam it, slice it and then serve it as part of my New Year's Eve dinner.
Afterwards: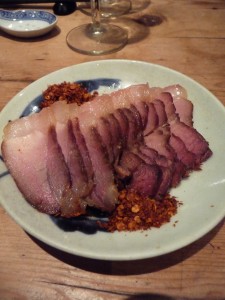 I wanted to show you a couple of uses for this home-cured meat. On the right you can see how I served it on New Year's Eve: simply rinsed, steamed, cooled, sliced and served with a dip of ground chillies (you can add a little ground roasted Sichuan pepper too, if you like). The meat has an intense umami flavour, a little like ham.
Another scrumptious use for it is to chop it finely and use it to add an umami deliciousness to fried rice or eight-treasure stuffings. Below you can see the fried rice I made with leftovers from the dinner: a little home-cured pork; an egg or two, beaten; finely chopped gai lan (Chinese broccoli); a little ginger and garlic; and a whisper of sesame oil to finish.