You say tomayto I say tomahta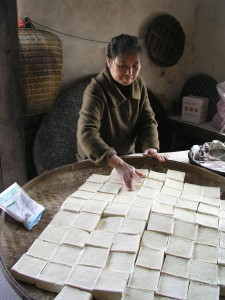 Last week I gave a talk at the Free Word Centre in London about the challenges of translating into English the language of Chinese food and cookery (it was part of a series organised by the two translators-in-residence, Nicky Harman and Rosalind Harvey). I gave a few examples of atrocious translations of dish names on Chinese restaurant menus, and then looked at some of the issues confronting translators, including the vast number of specialised culinary terms with no English equivalent, the culturally-specifice gastronomic concepts, and the wit and poetry of Chinese dish names. It all felt particularly relevant at the moment, since I've been grappling with the question of how to translate 豆腐 into English in my next book. In my previous books, I've translated it as 'beancurd', but my current editor favours 'bean curd', which to me looks a little awkward. Another option would be to use the standard pinyin transliteration from Chinese: dou fu. Meanwhile, the vast majority of writing in English uses the Japanese-derived term tofu.
Anyway, I put out a call for ideas on Twitter. One kind person did a Google trends search which showed that the overwhelming majority of searchable texts on the internet call it tofu, while 'beancurd' and 'bean curd' are both minority usages. Gary Stephens pointed out that his Google searches brought up 36 million hits for tofu, 1.6 million for bean curd; and only 331,000 for doufu! Andrea Nguyen, whose new specialist book on the subject, Asian Tofu, will be out in February 2012, said she'd pondered exactly the same issue and ended up plumping for tofu as the one most suitable for her readership.
Personally, I still find it a little weird calling it tofu because I'm used to saying dou fu in Chinese, so tofu doesn't feel quite right. And as someone writing about Chinese food and culinary culture, shouldn't I be advocating a Chinese-derived term when describing a foodstuff that has its origins in China? I suddenly noticed how many of the terms used by English speakers for Asian foods are derived from the Japanese: edamame rather than mao dou 毛豆 for green soybeans in the pod; daikon for luo bo 萝卜 white radishes; umami rather than xian 鲜 for delicious savouriness (although in that case, I have to admit that the Japanese may have been first to come up with the whole umami concept); yuba for beanmilk skin (which has various different names in Chinese); and now konnyaku or konjaku for mo yu 魔芋. In all these cases of introducing Asian food culture in the West, it seems that the Japanese simply got there first.
In the end, though, I capitulated. If tofu has become established as the standard English translation worldwide, and is the most recognisable term for those unfamiliar with Chinese cookery, it probably makes sense to use it in my recipes and my writing. I could try to run a one-woman campaign for dou fu or beancurd, but this might be at the cost of winning converts to the pleasures of Chinese food, which is, after all, the main point of what I do. So tofu it is. Hrrumph.
What do you all think?