I had some friends for dinner on Saturday and, for the first time in ages, cooked General Tso's chicken. This, as some of you may know (especially any Americans), is the most famous "Hunanese" dish in America…. but is virtually unknown in Hunan itself. Exploring its origins was one of the unintended highlights of my research for Revolutionary Chinese Cookbook, and the piece I wrote about it was excerpted in the New York Times.
Although it's not the most traditional dish, it is incredibly delicious when done properly, with good chicken. On Saturday I used the Taiwan version of the recipe, which I was taught in the kitchens of the man who invented it, Peng Chang-Kuei, in Taipei. Â I'd forgotten quite how good it was, but after the reception it got from my friends the other night, I suspect I'm going to be making it regularly!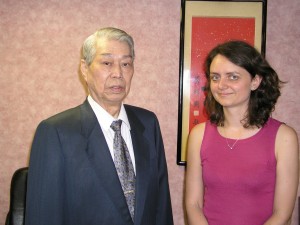 The full menu on Saturday was Sichuanese cucumber salad, smoked beancurd with chilli oil, General Tso's chicken, Red-braised beef with Asian radish, Pock-Marked Woman's Beancurd (mapo doufu), stir-fried mixed mushrooms with garlic, stir-fried water spinach with chillies and Sichuan pepper, and stewed peaches with crystal sugar. With steamed rice, of course. And raspberry pavlova for pudding, thanks to my friend Penny!
The picture to the left was taken in Taipei in 2004. It was an incredible honour to meet Chef Peng, who is one of the most celebrated chefs of his generation, and used to be in charge of state banquets in Taiwan.
P.S. the recipe is at the bottom of the New York Times article.