READING: I've been gripped by Anya von Bremzen's memoir of eating in the USSR, 'Mastering the Art of Soviet Cooking'. The story of three generations of her family and a century of life in Russia (and other parts of the USSR), it's darkly funny, richly informative and fascinating. The sweet-sour nostalgia for an era characterised by food queues, political doublespeak, black humour and deprivation reminds me a little of China, where some people still reminisce fondly about life under Maoism.

WRITING: A short piece for Financial Times Weekend on the best Shanghainese restaurants in Shanghai – you can read it here.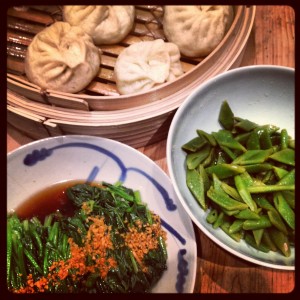 COOKING: I've been trying to improve the elegance of my baozi (steamed buns), with the help of the Sichuanese head chef of Baiwei (the new restaurant in the Barshu group), Fu Bing. Last week I made some stuffed with slow-cooked pork (divine), and some Xinjiang-style with minced lamb and shallot (next time I'll use some kind of green vegetable rather than shallot), and served them with Sichuanese spinach in ginger sauce and some runner beans from my mother's garden, simply steamed and dressed with salt, olive oil and lemon juice. I also made Gong Bao chicken, an old favourite that I haven't made for a while, in preparation for my live video chat with the New York Times on Monday – details here.
EATING: It's been a splendid and gluttonous week, for one reason and another.
Sunday lunch at one of my favourite London haunts, Royal China Club. The scallop dumplings here are exquisite, as is the cheung fun. The only disappointment was that one of the specials I always order is no longer on the menu: I can't remember the official name, but it was those gorgeous little steamed rice paste cups topped with minced pork and preserved vegetable that are a speciality of the Cantonese Chiuchow/Chaozhou region, and which they served here on a bed of steamed egg custard. After we'd eaten I told the head waiter of my sorrow not to see them (!), and he said that they always take customers' comments into account. So I live in hope!
On Monday my mother and I had lunch at Song Que, where I ordered, as always, the bun (cold rice vermicelli) topped with shredded pork, grilled pork, spring rolls, pickled vegetables, herbs and a nuoc cham sauce; a bowlful of pho, and the grilled beef in betel leaf which has to be wrapped in lettuce leaves eat.
Monday evening: fabulous dinner at Pollen Street Social with one of the guests from my first China culinary tour with Royal China last year. We particularly enjoyed the soft hen's egg with truffle puree and smoked eel soup, the hay-smoked quail 'brunch' with 'cereals, toast and tea', as well as the 'PBJ' and 'Thai flavours' puds.
The most stunning surprise of the week was Restaurant Story, just south of Tower Bridge. Frankly, I'd expected something a bit twee, but the food was lyrical, exquisite and extraordinary. Of the ten course tasting menu (and assorted snacks to begin and end), only one dish seemed less than perfectly balanced. Staff were enthusiastic and knowledgeable without being intrusive, and the pared-down decor, with undressed wooden tables and none of the frippery that often accompanies food of this craftsmanship, gave the evening a relaxed and delightful air. Top dish? Hard to choose, but 'Beetroot, raspberry and horseradish', 'wild duck, apple and bilberry' and 'almond and dill' were hot contenders.
Anyway, after all that, it's back to real life – which fortunately involves plenty of home-cooked Chinese food.
LISTENING: Leonard Cohen at the O2, still enthralling an arena filled with thousands at the age of 78. What can I say? Just a joy.