Anyone for chop suey at the Chinese Delmonico?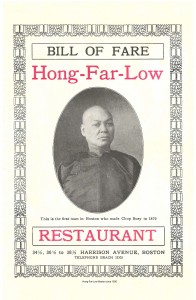 Thanks to Cool Culinaria for sending me samples from their new collection of vintage Chinese restaurant menu prints, which date from the late nineteenth century to the 1970s! The originals come from the Harvey Spiller Collection, which is apparently the largest privately-owned Chinese menu collection in the world. They offer a fascinating glimpse not only into the food, but the imagery used to sell Chinese food in America, including 'chop suey' fonts and dragons. Two early examples particularly caught my eye. The cover of the Bill of Fare from the Hong Far Low, a restaurant in Boston in the 1930s, displays a black-and-white photographic portrait of a serious-looking man in a traditional Chinese gown with cloth fastenings, who is described as 'the first man in Boston who made Chop Suey in 1879'. The menu itself is only in English and clearly aimed at American customers, with sections on fried chicken, chicken chop suey, chow mein fried noodles, chop suey, omelets and salads, and a collection of very  unChinese-sounding desserts, such as chocolate cake.
The Mon Lay Won Co on Pell Street in the Chinatown of New York City bills itself as 'The
Chinese Delmonico'. On the front of its rather charming menu (c. 1910) is a reproduction of a painting of an elegant lady in Qing-style embroidered robes, with a silken fan in her hand and one elbow resting on a small table bearing a vase of plum blossoms, apparently commissioned by the proprietor, according to the inscription (為萬里雲主人高橋孤泉画). Two small engravings of flower vases on ornamental tables frame the main image.
The actual food on offer here is grander and more Chinese than at Hong Far Low – although there is plenty of chop suey to satisfy American customers. For two dollars, one could have a dinner of 'Bird's Nest Soup, Bass Pekin Style, Shrimp Omelet a la Chinese, Roast Squab, Chicken Mushroom, Mushroom Chop Suey, Boiled Rice' followed by a dessert of 'Li Chee, Golden Limes, Canton Ginger, Lin Som Tea'. The a la carte menu lists Beche-de-Mer (aka sea cucumber), dried oyster soup, giblet soup, Â 'pigeon pique', various kinds of rice congee and pig's feet. Quite a few Chinese vegetables are offered, with their transliterated Chinese names, including Kai Choy (mustard greens), Sz Kwa (silk gourd) and Tung Kwa (winter melon), alongside a selection of teas: Oolong, Souchong, Congon,
Sui Sin Cha, 'Loong Su or Dragons Beard', Pow Chong, Hung Muey and Heung Cha. 'Chinese condiments and Preserves in great variety' and 'Pang's Celebrated Chinese Cigarettes' are also available. Patrons are reminded that the establishment can cater for private dinner parties on request.
Two particular questions spring to my mind: 1) Are the sea cucumbers, pig's feet and abalone aimed at adventurous Westerners or at Chinese customers? Or perhaps partly at Chinese customers entertaining Westerners to dinner? Was bird's nest soup an important part of the exotic experience of eating Chinese food, just as Sichuanese chilli-laced tripe might be for more daring diners-out today? Or was it regarded as bafflingly foreign? 2) Did restaurants such as Mon Lay Won and Hong Far Low have supplementary Chinese-language menus for their Chinese customers as some Chinatown restaurants still do today? Were they offering off-menu specials and seasonal foods to Chinese customers? Was the food as sophisticated as it sounds? (Only more accomplished chefs would normally cook expensive ingredients like shark's fin and sea cucumber.)
Some answers here, in a blog post by Jeff Weinstein, with some old photographs of Mon Lay Won. More pics here. And a very interesting post, too, in Flavor and Fortune, Jacqueline Newman's specialist journal about Chinese culinary culture, which is by Harvey Spiller, menu collector extraordinaire, himself.
While we're on the subject of Chinese food in America, may I again recommend Andrew Coe's brilliant 'Chop Suey: A Cultural History of Chinese Food in the United States' – richly informative and a delightful read. Here's a link, in case you'd like a copy:
Finally, here's the poem from the 'Chinese Delmonico' menu, by the proprietor, Jimmie:
My bird's nest soup is first, of course;
On top of this, black fish with sauce,
Nice rich omelet, a la Chinese
Luscious roast squab with brown gravy,
A fried Shark fin from the Yellow Sea
You next take Chicken with mushrooms free.
Wonderful Chicken roasted and brown,
Order Li Chee nuts, best in town,
Nice golden limes, or fresh green plums.
Choice pineapple, will you have some?
Oolong tea or rice wine free,
My Bill of Fare is first, you see.
Please try our cakes of sponge or rice,
A dainty treat, you will find them nice
No other place has a menu, hither or yon,
You can compare with the MON LAY WON.