General Tso's chicken (again)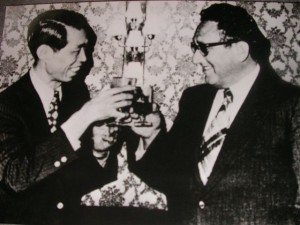 Francis Lam has written an interesting piece on the history of General Tso's chicken for Salon.com. And I think it may clear up one of the niggling little questions that has been perplexing me since I gave a paper on the subject last month, at the School of Oriental and African Studies in London. In the discussion that followed my talk, I realised that I didn't have any idea how to explain the fact that, although the Taiwan-Hunanese chef Peng Chang-Kuei seems clearly to be the originator of the dish, and although the Chinese name of the dish on the menu of his restaurant in Taipei is Zuo Zongtang's chicken (å·¦å®—æ£ åœŸé›ž - Zuo Zongtang is the full name of General Tso), he translates it as 'Chicken a la Viceroy'. It didn't occur to me to ask when and how the English name was changed from 'Chicken a la Viceroy' to 'General Tso's Chicken' – and I'd resolved to ask Chef Peng and his son about this detail next time I talk to them.
Anyway, Francis' article does suggest an explanation, which is that two other chefs in New York, David Keh and T.T.Wang, who had trained in Chef Peng's Taipei restaurant and adopted many of his recipes, started calling the dish 'General Tso's chicken', two years BEFORE Chef Peng opened his own restaurant in New York. Did Chef Peng adopt their translation for his own NYC menu?
Does this make sense, Francis, Ed Schoenfeld, Jennifer 8. Lee, my fellow General Tso sleuths?
(The photo on the left is of Chef Peng clinking glasses with Henry Kissinger in his New York Restaurant)