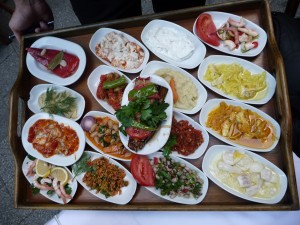 It's been a while since I posted here, mainly because I was away on holiday for a couple of weeks, and then came back to an avalanche of things to do. Still, it was a fantastic break, staying in with friends in Istanbul and then on Büyükada, the largest of the Princes' Islands.
For once, instead of just biting everything I came across, I was actually bitten myself, by the pet dog of a friend of a friend. The small, ferocious, yapping creature jumped up my skirt and bit me, hard, on the leg. It was shocking, and painful, not quite deep enough to draw blood, but enough to leave me with a vivid, jaw-shaped ring of toothy bruises.
It didn't take me long, however, to see the funny side of my predicament. One of the most famous Turkish delicacies is, after all, kadınbudu ( 'lady's thigh') and – I'd eaten it myself only two days' previously, in a restaurant on the Asian side of Istanbul. Of course kadınbudu is really a kind of meatball made from minced lamb, cooked rice and herbs, covered in beaten egg and then deep-fried. But I wasn't sure that it was fair to blame a dim-witted Turkish dog for taking it literally.
I'll spare you the photo I took of the fabulous multicoloured bruises on my own thigh, but below is a picture of the normal kind of 'lady's thigh', kadınbudu: