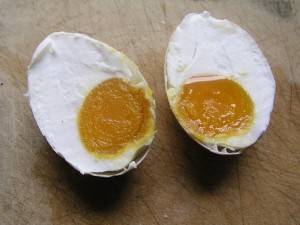 I'm just back from a weekend of unusually traditional English cooking at my parents' place in Oxford. Roast lamb, new potatoes and a salad with land cress and dandelion leaves from the garden for lunch on Easter Sunday (and no caterpillar-type secret ingredients – people who have read my Shark's Fin book will understand what I'm talking about here!). Inevitably a few Chinese characteristics crept in, though – like the finely-sliced spring onions 葱花 in the goose-egg omelette I made for supper the same day, with a soy-sauce garnish. 
The highlight of the weekend was a fleeting moment in which my aunt and uncle passed directly over the garden in a hot-air balloon! They called us from a mobile phone just before to say that they were headed in our direction, so we rushed outside to look. And sure enough, there they were, drifting in from the southwest. They were low enough when they passed over for us to see their faces hanging over the basket, and to exchange a few words with them. An extraordinary coincidence, because you have no control at all over the breezes that carry you around in a balloon. It was magical, like a scene from a fairy tale! And it reminded me of my own excursion with my balloonist uncle, years and years ago – a spur-of-the-moment evening jaunt that gave me the best excuse I'd ever had for not doing my chemistry homework.
Incidentally, someone called Martin C sent me a message through this website – and I managed to delete it accidentally before I had read it. Sorry, Martin! Please, if you are reading this, try to resend!