Chinese food emergency helpline?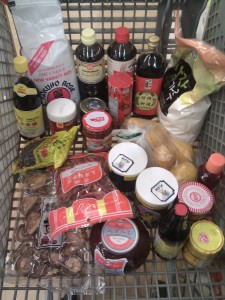 Every so often, I have an SOS telephone call from a friend in desperate need of information about some aspect of Chinese food. Usually they are out for the evening in central London, have a sudden and overwhelming urge to have dinner in a Chinese restaurant, and want to know where to go. One friend called me  to ask me which restaurant I could suggest; a little later, seated in the restaurant I'd recommended, he called again to ask for tips on which dishes to order; and a couple of hours afterwards he called once more to give me a report on the meal!
Another time, an old college friend who lives near Washington DC left a message on my mobile phone saying that she and her husband were about to drive past a Chinese supermarket, and thought it would be a great idea to stock up on all the ingredients they'd need for a serious Sichuan and Hunan cooking session based on recipes in my books, so could I please remind her what they should buy? Luckily I picked up the message soon afterwards, so I zapped off a short list, as follows:
MOST VITAL
Soy sauce, light and dark (or an organic tamari soy sauce)
Chinkiang vinegar (Chinese brown rice vinegar)
Sichuan chilli bean paste (made with chillies and fava or broad beans)
Chilli oil OR – better – ground Korean or Sichuanese chillies to make your own chilli oil
Toasted sesame oil (pure and unblended)
Dried chillies (not small deadly ones – larger ones are milder)
Whole Sichuan pepper
Shaoxing wine
Potato flour (a.k.a. potato starch)
Groundnut or rapeseed oil for cooking
ALSO USEFUL
Fermented black beans (the dry ones with salt and ginger)
Sichuanese preserved vegetable – ya cai OR Tianjin preserved vegetable in jars
Dried shiitake mushrooms
My friend picked up my email on her Blackberry, and within the hour I received the photograph above!
Apparently the cooking session was a great success.