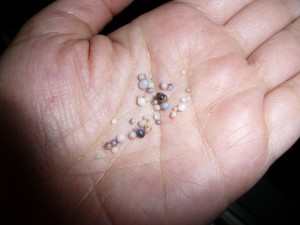 On the Scottish island, a friend and I picked our way across slippery seaweed-strewn beaches, through bogs and heather bushes, and finally down a rocky cliff, to gather wild mussels, kilos and kilos of them. Back at the cottage, we cooked some of them marinieres, and used the rest in a kind of Italian pasta sauce (onion, tomatoes, herbs) which we ate with spaghetti. The orange mussels themselves were delicious, but many of them had tiny, tiny pearls embedded in their outer layers, which made them somewhat perilous to eat. I crunched one quite badly, and it ended up firmly embedded in one of my back teeth! It was horribly uncomfortable at first, but then settled down. The following day some of it came out, grittily, in some chewing gum, but I had to visit the dentist to make sure that it was completely clear. My London colleagues laughed at me for having such a ridiculous ailment ('Doctor, Doctor, I have a pearl stuck in my tooth!).
Funnily enough, within the week, something similar nearly happened, but with a piece of shot in a wild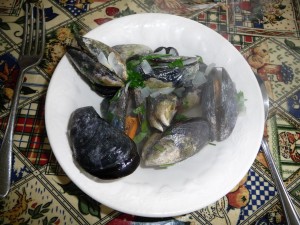 duck – and for a moment I dreaded the embarrassing prospect of a return visit to the dentist.
Has anyone else had amusing eating-related mishaps? Live octopus tentacles stuck to their cheeks in Korea?Bones through their cheeks during enthusiastic chewing?
When I was a small child, I once swallowed a small, painted metal 'gollywog' pendant that I had been sent after saving up the tokens on pots of Robertsons jam. My parents took me to the hospital in Oxford, where I was X-rayed, and the X-rays showed a perfect little gollywog shape suspended somewhere in my abdomen! (I've always regretted that we didn't keep a copy of the image.)