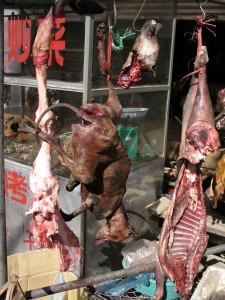 According to reports in various newspapers (such as the Guardian in the UK), legal experts in China are proposing that a new law to prevent the abuse of animals should include a ban on the consumption of cats and dogs. As anyone who lives in China knows, eating these animals is rather unusual, and generally limited to a few regions. Moreover, eating dog meat, though it dates back to ancient times, is a seasonal delicacy, suitable only for very cold weather because of its heating qualities. Looking at Western discussions of Chinese food, however, you'd never know that it was a minority pursuit. Westerners, as I argued in this op-ed piece in the New York Times a couple of years ago, have been obsessed with Chinese dog-eating since the time of Marco Polo. It's something they just love to get outraged about.
Personally, I've never understood how people can be horrified at the idea of eating dogs, while happily eating pigs (which are also intelligent creatures). Â Both are equally gruesome, when you really think about it.
So why are the Chinese thinking about a ban? Is it really the result of the increase in numbers of people who keep dogs as pets, and can't bear the thought of them? Or of concern about the role of the dog trade in 'causing social problems', as one lawyer quoted by the Guardian alleges. And if it's partly about disquiet at the maltreatment of farmed dogs, have the campaigners ever seen what happens in a factory farm producing beef or pork?
The other explanation, of course, is that the Chinese are growing increasingly sensitive to Western pressure on the subject. If Westerners think dog-eating is barbaric, is it time to ditch it?
What do you think?