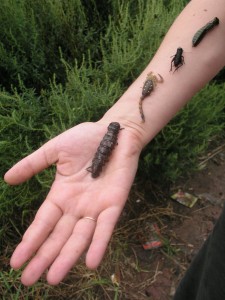 A fascinating piece in the Guardian today about an FAO policy paper on the eating of insects. Apparently, senior figures in the UN and elsewhere are looking for ways to boost consumption of creepy-crawlies as a means of reducing greenhouse gas emissions. Rearing livestock such as cows, pigs and sheep guzzles agricultural land and spews out 20% of global greenhouse gases, and so we all need to start eating less meat. Insects, it seems, are a promising alternative, since they are rich in protein, vitamins and minerals, and breeding them produces far less pollution than breeding conventional meat animals. The only problem, according to the experts cited in the article, is the Western taboo on eating insects.
If you are interested in this subject, I heartily recommend this extraordinary book by the Victorian Englishman Vincent Holt, which deploys powerful, rational arguments in favour of eating insects – and offers some recipes that sounds rather interesting. It's a delightful, amusing and provocative little book. You might also like to read my thoughts on the subject in a piece for the FT a few years ago, which is on this website. The photographs that accompany this post are of some of the ingredients (raw and cooked) on the menu of Zou Haikuan's restaurant, which is mentioned in my article.
I certainly agree with Vincent Holt that it's completely irrational to eat shrimps and oysters while rejecting creepy-crawly insects and slimy snails – don't you? Â And do any of you have any promising insect recipes, or insect-eating tales?