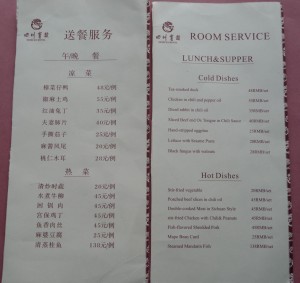 Of course, you can get a club sandwich from room service at any international hotel in China, and probably anywhere in the world, but how about this room service menu from a hotel I stayed in in Chengdu? It was wonderfully reassuring to know that I could summon up some diced rabbit in chilli oil or dan dan noodles if the need arose. The only problem was that when the need did arise with the onset of late-night munchies, the kitchen had closed for the evening. It was then that I noticed that the room service was only available until 9pm.
Fortunately, I was able to sneak out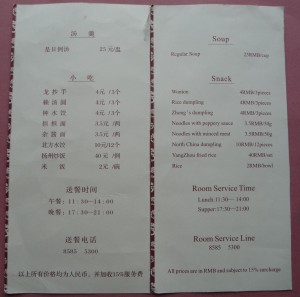 of the hotel, where I passed a mobile 烧烤 stall where a man was grilling everything you could think of on bamboo sticks, and then found a whole row of little eateries selling dishes made with goat, a speciality of Jianyang (简阳), a town to the southeast of Chengdu.
The extensive menu at the place I chose included every part of the goat you can think of, made into cold dishes, hot dishes, snacks and nourishing soups. Some of the dishes were versions of mainstream classics such as twice-cooked pork and red-braised pork, but made with goat. Since I was on my own and had eaten a rather large dinner a few hours before, I avoided the large platters of fragrant-and-hot goat ribs and feet, and the goat blood in a fiery soup, but I did have a rather lovely bowlful of noodles topped with a spicy stew of pickled yard-long beans and – you've guessed it – minced goat. A perfect midnight feast, soothing and stomach-warming.