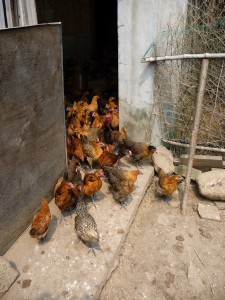 As always, cooking mainly 'Western food' for Chinese friends was an interesting experience. For a start, I faced unusual competition for the best bits of the chicken. Whenever I cook roast chicken for my family or Western friends, chances are that someone will want the breast meat, which suits me fine – but anyone Chinese knows that the most delicious parts of the bird are the legs and wings, as do I. My friend chose to have wing 'so I can fly high!'. She added that when she was a child, her parents wouldn't let her eat chicken's feet because they thought eating them would make her calligraphy as ugly as chicken's footprints! (Probably her parents just wanted to eat the feet themselves.) And she said many Chinese parents in the past deliberately gave their children – or most likely, their sons – the cockscomb, because this resembles an imperial official's cap, and might help them to enter the civil service.
When she tried my lovely beetroot salad, my friend said the vegetable, which she had never previously encountered, reminded her of a root vegetable she'd come across in Tibetan regions.
'Oh, really!', I said, 'What do they do with it there?'
'They feed it to their pigs.' She replied.
She did, however, have a second helping.
The other interesting thing is that while most Western guests would have polished off the chicken, my Chinese friends ate more modest quantities of meat, but finished up most of the vegetables. This, I think was a reflection of the healthy bias towards vegetables in the traditional Chinese diet – but I should add that one of the reasons that the young daughter loved our English roast supper was that it reminded her of her beloved KFC!