Revolutionary dinner parties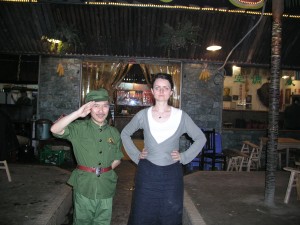 I've been going through some old notebooks, and found an account of a supper I had in 2005 at a crazy Chengdu restaurant called 'The mess canteen 伙食团'. Its name was a reference to the mess canteens of the revolutionary era, and all the dishes on the menu were named after revolutionary slogans. So you could order 'The fragrant grasslands 芳草地' (a lettuce stem salad), 'Years and years of peace 岁岁平安' (stir-fried long beans with minced chicken), 'Chaos 乱七八糟' (stir-fried chicken offal), 'Atom bombs 原子弹'  (meatballs), or – my favourites – 'Fire-exploded embassy 火爆大使馆 or 'Dry-fried embassy 干煸大使馆'.
All the waiters and waitresses were kitted out in army gear, and announced the arrival of new guests with a loudhailer. The boss (who you can see in the picture above, with me), was known as the 'Village Chief', and prefaced every sentence he uttered with a line from Mao's little red book.
The restaurant originally occupied a sort of shack in an alley opposite the Sheraton Hotel, but later moved to a new location (pictured). Does anyone know if it's still there, somewhere?