Magic ingredients: Papery dried shrimp 虾皮
I always keep a bagful of these tiny dried shrimp, known as 'shrimp skin' in Chinese, in my freezer. A spoonful or two can be used to jazz up a bowlful of wontons in soup, fried rice or an omelette, and a handful transforms a cabbage into a fragrant, irresistible stir-fry. They are made from tiny, unshelled shrimps that are boiled and then sun-dried or baked dry over a gentle heat. As you might guest, they have a salty, umami taste that can lift the flavour of all kinds of savoury dishes. (Some people find their taste a bit strong and fishy, but not many, in my experience.)
I've included a couple of peppercorns in the photograph on the right so you can see how extremely small they are.
Recipe ideas: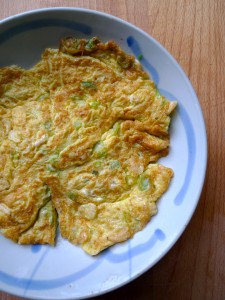 1. Stir them into beaten egg, with some finely sliced spring onions, white pepper and salt if you need it, and make an omelette: I do this in a wok, scrambling the egg in the base of the wok until it's nearly cooked, and then leaving it to turn golden on the base before flipping it over to fry the other side.
2. Use them to add a bit of extra excitement to fried rice. This morning I used up some leftover rice as
follows: Break up the rice so it doesn't stick together in large clumps; Heat a little oil in a seasoned wok, add a spoonful or two of papery dried shrimp and fry gently until they smell amazing and are faintly golden. Add some beaten egg. When the egg is half-cooked, tip in the cold, cooked rice and stir-fry over a high heat until it is piping hot and fragrant, and making popping noises against the side of the wok. Season with salt or light soy sauce to taste. Add finely sliced spring onion greens and continue to stir until you can smell them. Stir in a tiny amount of sesame oil if you please, to enhance the aroma, and then serve. This would be even more delicious with brown rice, in my opinion.
3. Add papery dried shrimp, dried laver seaweed (紫菜) and finely sliced spring onion greens to the clear stock in which you serve wontons or boiled jiaozi dumplings (full recipe in my book Every Grain of Rice).
4. Fry generous amounts of the shrimps in hot oil until crisp and fragrant; set aside. Add a little more oil to your wok, add very finely sliced spring greens, Savoy cabbage or other greens and stir-fry until barely cooked. Add the fried shrimps, with salt and soy sauce to taste, and finally spring onions (full recipe in Every Grain of Rice). This is possibly my favourite way to eat cabbage.
The shrimp are so thin that they can be used directly from frozen, and they keep for ages in the freezer. An indispensable stand-by ingredient.