A wild breakfast in Adelaide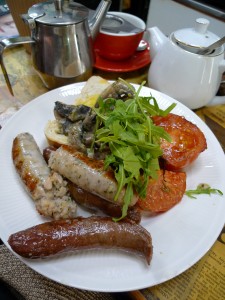 This excellent breakfast, enjoyed at the Big Table café in Adelaide's Central Market, might look like a run-of-the-mill fry-up, but it's not. I'd been browsing the market in search of local specialities, and had inevitably spent a while at the famous kangaroo shop, and another stall called Something Wild where they sell kangaroo, crocodile, goat, buffalo and camel meat. It was my last day in Adelaide, and I was dying to try some of these unusual ingredients, but none of the local cafes appeared to serve them (I think I'd only had crocodile once before, actually in a Cantonese restaurant in West London). But the incredibly kind staff at the Big Table, where I'd eaten breakfast a few days before, agreed to cook a couple of speciality sausages for me as a substitute for the bacon and eggs in their 'Big Brekkie'. So here they are: a kangaroo country sausage from the kangaroo shop, and a crocodile sausage from Something Wild. And I'm happy to report that they were both absolutely delicious, and not disturbing in any way. The kangaroo banger was dark, juicy and peppered with fragrant herbs (it didn't taste gamey at all), while the croc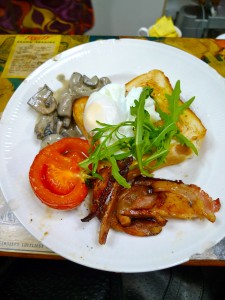 sausage was gorgeously juicy and tender, a little like chicken but lighter in texture. Both were wild, sustainable, free-range meats – and in the case of the crocodile, I'd say it's better to eat it before it eats you.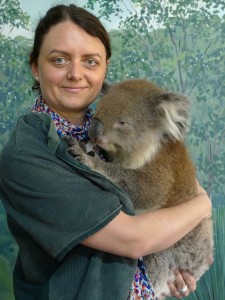 You can see a picture of the regular Big Brekkie on the right…
Just in case you were wondering if I have to eat EVERY wild animal I meet, here is a pic of me interacting very amicably with a koala, who lived to tell the tale.
And here's a picture of another local sausage, this time laced with chilli – anyone who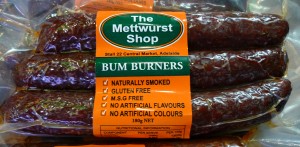 remembers eating Sichuan hotpot before a long, hard-seat train journey in China will know exactly what they mean!