Hutong at the Shard (or Chinese food at the top of the world)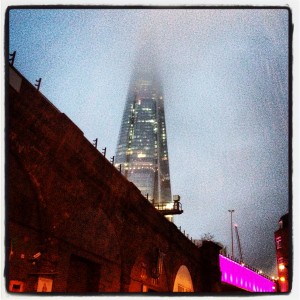 Well, I was a total shard-sceptic, but now, having been inside the building for the first time, I have to admit I've been converted. A friend of mine is working in the kitchens of Hutong, the Chinese restaurant on the 33rd floor, and invited me to lunch – and what a view! What a feast! We dabbled in the dim sum menu: opalesque, translucent orbs filled with colourful morsels  ('crystal crab meat dumpings'); roast puff pastries stuffed with wagyu beef instead of the usual char siu pork; and pretty little bundles tinted with spinach juice, holding a mix of carrot and shiitake mushrooms. Judging by these, the dim sum here is exquisite and at least on a par with its closest London rival, the Royal China Club.
Most exciting for me was the Peking duck, carved tableside by a chef, and laid out prettily on a bamboo tray lined with banana leaf. (It's not actually cooked in what looks like a Beijing wood-burning brick oven at the side of the restaurant but in the steel Peking Duck oven that stands next to it – presumably open fires are not encouraged on the 33rd floor of a skyscraper .) My only quibble was that the accompanying pancakes were not the traditional hand-rolled, floury pancakes that are lightly toasted on a griddle, but something more like a breakfast pancake, with a softer, wetter texture. But the quality of the duck itself was probably better than any I've had in Beijing, even at Da Dong: it was gorgeous, succulent and richly flavoured. And frankly, the combination of duck, sweet dark sauce, cucumber, scallion and pancake is pretty unbeatable, however you do it. I ate rather a lot of duck, as you might imagine, at least a quarter of it, without realising how many other dishes were coming…
The 'crispy de-boned lamb ribs' were expertly cooked and deeply lovely, though possibly not what you absolutely need after consuming a quarter of a roast duck (!); the prawns with salted duck egg yolk were excellent; and the stir-fried Chinese broccoli a welcome gust of vegetarian freshness. I was less keen on the crispy beef – it was a perfectly good rendition, but it's one of those dishes, like sweet-and-sour pork, that I associate with set menus in more ordinary Cantonese restaurants.
Overall, the style of the food (though not the actual menu) is reminiscent of Hakkasan, in that it's mainly aimed at Westerners, with an emphasis on crowd-pleasing, intensely flavoured deep-fried and roasted dishes, and perhaps fewer of the delicate soups, fresh vegetables, steamed dishes and unusual ingredients than you'd find in a more Chinese Chinese restaurant. The produce is plainly excellent, and there's a Cantonese slant to many of the dishes.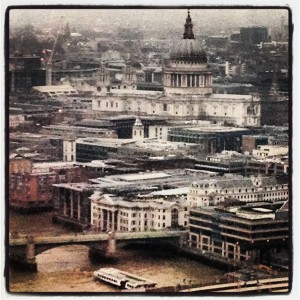 But the view! London unfolded in a romantic panorama that reminded me of those sweeping scenes of Paris in the film 'Moulin Rouge'. We were there on a cold, misty day, and the city looked monochrome and almost Dickensian, with plumes of steam rising like smoke, the river a brown ribbon snaking into the distance, and St Paul's cathedral standing steadfastly on the other side of the water. We sat by the window, gazing out over the spotlit table and the painterly colours of the food at this unforgettable sweep of London, sipping oolong tea and red wine, eating… As dusk fell, the twinkling lights scattered far below seemed magical.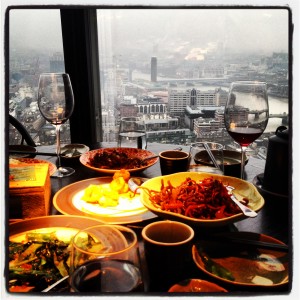 Fortunately I wasn't paying the bill… but although I tend to avoid the glitzy Chinese places, in general preferring that my money is spent on good food rather than glamorous decor, and although I'll normally always choose the more Chinese places over Chinese restaurant primarily aimed at Westerners, Ithink for Hutong I'll make an exception. The staggering setting, the good food, the sense of occasion and the sheer thrill of looking down over London mean I'll probably be back, even when I'm spending my own money!