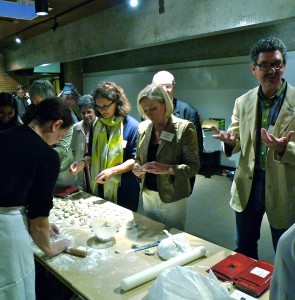 The theme of this year's Oxford Food Symposium was 'Stuffed and Wrapped' – so we spent the whole weekend discussing dumplings, pasties, stuffed vegetables and the like. We ate stuffed and wrapped foods, like langoustines in filo pastry, saddle of lamb encroute, summer pudding, stuffed vegetables from Gaziantep in Eastern Turkey, baklavas and German sausages, And after dinner on Saturday night, I led a small Chinese dumpling-making session in the bar, teaching people how to pleat jiaozi and baozi, gather up shao mai and make various other pastry shapes.
This was all made possible by the generosity of the lovely Sophie Liu and Chefs Zhou Jianjun and Ren Qiang of My Sichuan restaurant in Oxford, who rustled up large amounts of dumpling dough and lent me a Chinese rolling pin! (Chef Zhou used to work at Barshu.)
Here is a picture of some of our efforts!