Chinese vegetables in Oxfordshire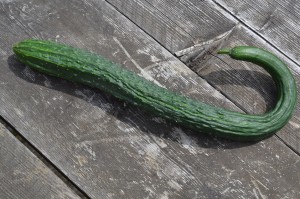 A glorious morning yesterday at the Worton Organic Garden and Farm near my parents' house in Oxford. I brought back purple sprouting broccoli, basil, multicoloured tomatoes of many different shapes, and, most excitingly of all, a couple of freshly harvested, locally grown Chinese vegetables! It turned out they were growing the prickly Chinese variety of cucumber for its exquisite flavour (it's much less watery than a typical European cucumber) and soybeans. They also had a row of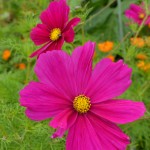 Chinese chives 韭菜 in their hothouse – not enough, they said, for commercial use, but growing enthusiastically. The budded chives stems 韭菜花 are particularly good stir-fried with a few slivers of marinated pork; the chives themselves in dumpling stuffings or made into omelettes or scrambled eggs.
I boiled the soybeans, green and tender in their bristly pods, and we ate them before lunch, with a sprinkling of seasalt. The cucumber will find its way into a spiced Sichuanese salad 炝黄瓜 very soon.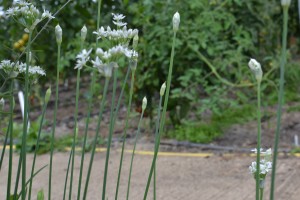 I did ask owners of the farm if they'd considered growing wo sun 莴笋(known in English as celtuce or stem lettuce), which is one of the most versatile and subtly delicious of southern Chinese vegetables, but unfortunately they said it didn't much take to the English climate, and that their attempts to nurture it had fizzled out.
Later in the year, they tell me, there will be plenty of pak choy and gai lan… I can't wait.
Do any of you blog readers grow your own Chinese vegetables? If so, which ones?