Chicken with chillies – or chillies with chicken?
I promise I'll blog about something other than chillies one of these days, but in the meantime…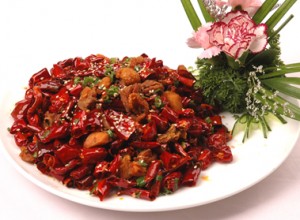 One of the most popular dishes on the menu at Bar Shu, the London Sichuanese restaurant for whom I work as consultant, is 辣 子 鸡  or chicken with chillies. It's originally a dish from Geleshan in Chongqing, and it's guaranteed to shock on first acquaintance. A small chicken is chopped up, on the bone, into tiny pieces, marinated and deep-fried. It is then stir-fried with an improbable wokful of chillies and Sichuan pepper – so many that you have to fish around in a pile of scorched, fragrant chillies to find the pieces of chicken in the finished dish. It's not actually as hot as it looks, and the chicken has a marvellous fragrance, but staff at Bar Shu always try to warn unwary guests that they are not supposed to eat the chillies.
I heard recently from the waiters, however, that two of their regular customers wanted to play a trick on someone. They decided to tell their friends that the proper way to eat this dish was to eat only the chillies but leave the chicken on the plate… and they made the staff promise beforehand not to warn him. So the staff held their tongues and their laughter, wincing in empathetic pain as the friend munched his way through a heap of chillies. Luckily they were not the Dorset Naga variety mentioned in my previous post…