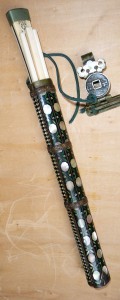 According to this piece in the Los Angeles Times, Greenpeace China estimates that 100 acres of trees need to be felled every 24 hours to keep up with Chinese demand for disposable chopsticks. The article says the Chinese government is so concerned at the waste that it's trying to clamp down on their use – although with little effect so far. As anyone who has lived in China will know, many Chinese people are becoming obsessed with hygiene – it's one of the reasons that middle-class parents prefer buying their children packaged snacks in Walmart to  old-fashioned street snacks sold by itinerant vendors. Now that everyone expects restaurants to supply either disposable chopsticks (made of wood or bamboo) or those that have been properly sterilised, it's hard to go back to the old days when many small eateries would simply have a potful of reusable wooden chopsticks on each table.
Perhaps the solution is to revive the old Manchu and Mongolian habit of carrying around a personal set of chopsticks and other implements. The one pictured on left and right, inlaid with mother-of-pearl, is a rather fine ornament that can be attached to a belt, and it contains not only a pair of bone chopsticks, a knife and a file for sharpening, but also (not pictured) a tiny bone toothpick and an ear scoop! Of course the set pictured is rather elaborate and unnecessarily heavy, but imagine a funky, well-designed set of chopsticks in a little holder you could slip into your handbag… Â (Actually, I remember on my very first trip to China, and indeed to Asia at all, I carried round my own pair of plastic chopsticks because I was paranoid about hygiene, and just rinsed them after use.)
And talking of reusing things rather than chucking them away, every time I see people drinking coffee out of those incredibly wasteful cardboard cups with plastic tops, I remember a restaurant kitchen in Shaoxing where every chef had a metal tea mug which was stored on a shelved labelled with everyone's names (see picture below). Why don't we all do this in our offices?
(P.S. thanks to @taniabranigan and @raykwong for drawing my attention to the LA Times piece on Twitter…)