In an upstairs room, dozens of apprentice cooks in white overalls were engrossed in learning the arts of sauces. Chillies and ginger were being pulverized with pairs of cleavers on tree-trunk chopping-boards, Sichuan peppercorns ground to a fine brown powder, and the students scurried around mixing oils and spices, fine-tuning the flavours of the rich dark liquids in their crucibles. Notebooks scribbled with Chinese characters lay around on the tables amid the blood-red chillies and scattered peppercorns. We decided immediately that this was where we had to study.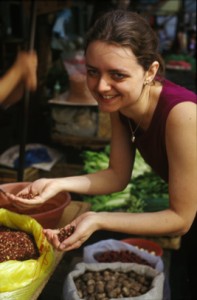 That was my first encounter with the cooking school in the Sichuanese capital, Chengdu, where I ended up training as a Chinese chef in the mid-1990s. It was just the beginning of a fascination with Chinese food that has taken over my life. Since then I have travelled widely all over the country, from Xi'an in the north to southern Hong Kong, from Kashgar in the far West to Yangzhou in the east, collecting recipes and researching local culinary traditions. And I never cease to be amazed by the richness and diversity of Chinese food culture, which is why, I suppose, I've spent most of of the last fifteen years exploring and writing about it.
This website is an introduction to my work, which includes writing books and articles, broadcasting on television and radio, teaching cookery, speaking at conferences, and consulting, most particularly for the popular Bar Shu Sichuanese restaurant in London's Soho district.
'The best writer in the West… on Chinese food' Sunday Telegraph
'Fuchsia has a rare ability to convey an encyclopaedic knowledge of Chinese cuisine in a compelling and totally delicious way.' Heston Blumenthal
'Fuchsia Dunlop joins the ranks of literary food writers such as Elizabeth David and Claudia Roden.' Independent
'A world authority on Chinese cooking… Her approach is a happy mixture of scholarly and gluttonous.' Observer Food Monthly